What Channel is the Eagles vs. Patriots Game on Today?
The Philadelphia Eagles are set to kick off their regular season on Sunday, September 10, with 18 matches lined up. Their season-ending games will be against the New York Giants on Sunday, January 7, 2024.
What Channel is the Eagles Game on Today?
CBS will broadcast the Philadelphia Eagles game on Sunday, September 10. The Eagles are slated to face off against the New England Patriots at Gillette Stadium in Foxborough, MA. The kickoff is scheduled for 4:25 p.m. ET.
Where to Watch and Stream the Eagles Game Today?
The Eagles game today can be watched on CBS. For those looking to stream the game online, options include fuboTV, Hulu+ Live TV, YouTubeTV, and DirecTV Stream. Moreover, Paramount+ subscribers can stream all CBS NFL games.
Which Channel will Broadcast Most of the Philadelphia Eagles Games?
FOX will be the primary broadcaster for the Eagles this season, covering 9 games. Both NBC and CBS will televise 2 games each. ABC, ESPN, and Prime Video are each set to broadcast one game.
Philadelphia Eagles TV Schedule 2023-2024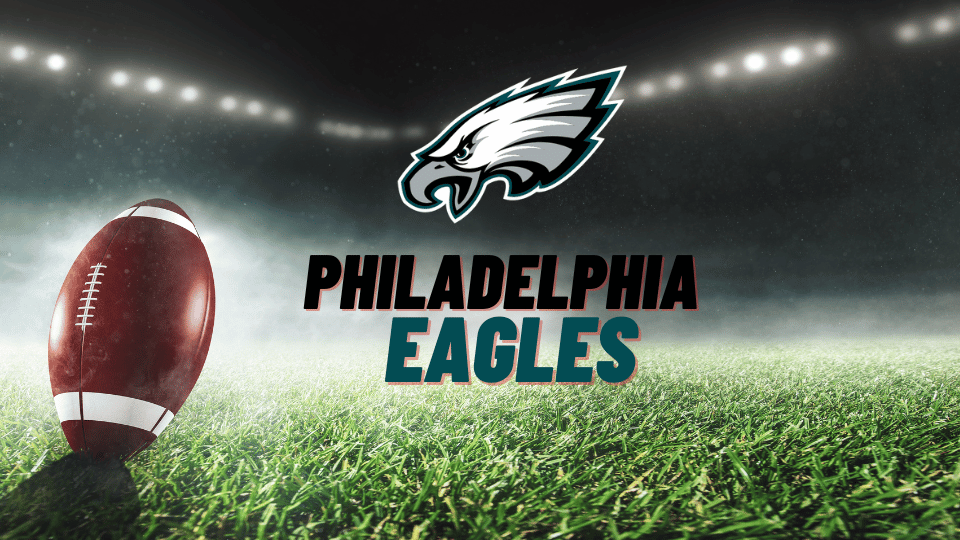 | WK | DATE | OPPONENT | CHANNEL | TIME (ET) |
| --- | --- | --- | --- | --- |
| 1 | Sun, Sep 10 | @ Patriots | CBS | 4:25 PM |
| 2 | Thu, Sep 14 | vs. Vikings | Prime Video | 8:15 PM |
| 3 | Mon, Sep 25 | @ Buccaneers | ABC | 7:15 PM |
| 4 | Sun, Oct 1 | vs. Commanders | FOX | 1:00 PM |
| 5 | Sun, Oct 8 | @ Rams | FOX | 4:05 PM |
| 6 | Sun, Oct 15 | @ Jets | FOX | 4:25 PM |
| 7 | Sun, Oct 22 | vs. Dolphins | NBC | 8:20 PM |
| 8 | Sun, Oct 29 | @ Commanders | FOX | 1:00 PM |
| 9 | Sun, Nov 5 | vs. Cowboys | FOX | 4:25 PM |
| 10 | BYE | BYE | BYE | BYE |
| 11 | Mon, Nov 20 | @ Chiefs | ESPN | 8:15 PM |
| 12 | Sun, Nov 26 | vs. Bills | CBS | 4:25 PM |
| 13 | Sun, Dec 3 | vs. 49ers | FOX | 4:25 PM |
| 14 | Sun, Dec 10 | @ Cowboys | NBC | 8:20 PM |
| 15 | Sun, Dec 17 | @ Seahawks | FOX | 4:25 PM |
| 16 | Mon, Dec 25 | vs. Giants | FOX | 4:30 PM |
| 17 | Sun, Dec 31 | vs. Cardinals | FOX | 1:00 PM |
| 18 | Sun, Jan 7 2024 | @ Giants | TBD | TBD |