NFL Schedule 2023: NFL Schedule for Today
Are you looking for NFL TV Schedule 2023? On this page, you will get the Complete 2023 NFL Schedule by week, by the team and Today NFL Games, including dates, times, TV Channels, live stream Guide
Welcome to the NFL Schedule 2023, your one-stop destination for all the essential information you need to navigate the 104th National Football League (NFL) season. Prepare for an action-packed season, set to commence on September 7, 2023, as the defending Super Bowl LVII champions, the Kansas City Chiefs, host the NFL Kickoff Game.
Our comprehensive guide will update you on all the important dates and matchups throughout the season, slated to conclude on January 7, 2024. But that's not all – the excitement continues as the playoffs kick off on January 13, 2024, leading up to Super Bowl LVIII's grand finale. The league's championship game will be held at the magnificent Allegiant Stadium in Paradise, Nevada, on February 11, 2024.
NFL Schedule for Today
In this section, we will regularly update today's NFL games. If you want to see today's NFL TV schedule, follow this section:
NEXT: Thursday, Aug. 3, 2023. (Pre-Season Hall of Fame Game)
| MATCHUP | TIME (ET) | TV/Live Stream | LOCATION |
| --- | --- | --- | --- |
| TBA | TBA | TBD | TBD |
2023 NFL Team Schedule
If you want to get your favourite team's NFL Schedule, follow this section:
2023 NFL Schedule (Weekly)
Here is the complete NFL Schedule 2023, week by week, including each match's kick-off time, location and TV Channel.
| | | |
| --- | --- | --- |
| WEEK 1 | WEEK 2 | WEEK 3 |
| WEEK 4 | WEEK 5 | WEEK 6 |
| WEEK 7 | WEEK 8 | WEEK 9 |
| WEEK 10 | WEEK 11 | WEEK 12 |
| WEEK 13 | WEEK 14 | WEEK 15 |
| WEEK 16 | WEEK 17 | WEEK 18 |
What Channels will carry NFL games?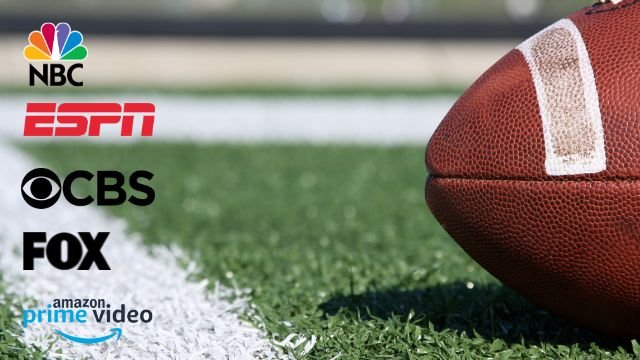 The NFL announced this week that it had finalized long-term deals for distributing NFL games on television, digital platforms, and other media rights with Amazon, CBS, ESPN/ABC, FOX, and NBC.
Deals inked between 2023-2024 will strengthen the NFL's digital football while assuring that all games are shown on television.
CBS
As it has done since 1998, CBS will continue to broadcast AFC games on Paramount+ on Sunday afternoons.
ESPN
Customers of ESPN+, on the other hand, will be able to watch one International Series game on Monday Night Football per season. ESPN+ provides live sports events from both ESPN and ABC.
FOX
FOX will continue to air games on Sunday afternoons, but digital rights have been expanded to include AVOD streaming provider Tubi.
NBC
NBC will continue to air Sunday Night Football, and Peacock will air the same games simultaneously. Peacock will give exclusive game streams if the agreement is in place.
Amazon Prime Video
In 2023, "Thursday Night Football" will air on Amazon Prime Video. Amazon's Prime Video service will stream Thursday Night Football live. The NFL has confirmed that the 2023-24 regular season will air on Amazon Prime Video.
You can Try Amazon Prime Video 30-day free trial access.
How Can I Watch NFL Games without cable?
We also looked at the top streaming providers that offer the channels we want. What if you don't have access to cable television? You may also watch football without having to pay for cable by utilizing the techniques listed below:
Use your Antenna
Regardless, antennas continue to operate. They've made strides in the right way. The preferred weapon of cord cutters. If you live near the towers, you may watch Fox, CBS, ABC, and NBC for free. You buy a best quality Antenna on Amazon.
Subscribe to Live Streaming service
FuboTV is the best online football streaming service. This reliable sports streaming service offers local networks such as the NFL Network. It has over 120 different channels.
NFL on Mobile devices
You can watch National Football League games if you have an Android phone.
The Yahoo Sports App lets you and your friends watch NFL and NBA games on your phone or tablet. It has the most up-to-date news, sports scores, and other information.
All regular season, playoff, and draft games are free on the NFL app.
Unbelievable? The apps are only available for Android and iOS devices (iPhone, iPad). These programs do not work with Chromecast or Apple TV for mirroring or projection..
Only games that are available in your area will be shown. If you stream live video on your phone without using Wi-Fi, you are wasting bandwidth.
NFL Game Pass
Some fans prefer to watch games that have already been broadcast on television. NFL Game Pass is an excellent alternative if you want to save games to watch later.
For $99.99 per year, NFL Game Pass allows you to watch all regular-season games. Nobody cares about your market. Every game. The NFL playoffs and the Super Bowl are both covered. It might not be your option if you want to see the actions live.
When do the NFL Playoffs 2023 start?
NFL Playoffs will kick off on January 13 in 2024 and The divisional playoffs of the NFL will be held on January 20 and 21, 2024. Conference championships 28 January and NFL Final (Super Bowl) on Sunday, February 11.